How to extend your outdoor space without getting a building permit!
It was a typical Melbourne spring afternoon when I strolled onto our outdoor space with a coffee to open my laptop and check a few emails and take in some splendid sunshine and feel relaxed amongst the open air. Once I opened the computer I realised I was in a bad spot for glare on the screen, so I just moved to another chair. However it seemed no matter where I placed myself, the screen would be unreadable or the sun would be right in my eyes.
As I looked at the lovely veranda which was built with the house, I thought to myself, perhaps we could put a roof over this to increase comfort and make entertaining even cosier. So off I went back inside to research building extensions and what options may be available as well as costs/time and the dreaded permit from council!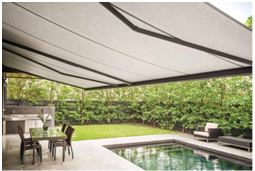 I have to say there are a lot of options but all very expensive, time consuming and the plans that need to be drawn up and approved can be the most painful with so many people from various departments having to be consulted. After all this I looked outside again and must confess I considered just throwing up a few umbrellas. Even then, the shade is always moving they can be a safety hazard when walking around and they would need to be tied down somehow and what if we forgot to close them and the wind gusted through!?
That weekend as we had friends over for lunch, we found that the warmer and longer days means more glare and of course the building of heat. I mentioned this to our friends and someone suggested an outdoor awning. I thought it was a ridiculous idea since who ever heard of an awning going over an external veranda? Aren't they just for windows?? Well I was stopped in my tracks when my friend said I should look up Folding Arm Awnings which apparently can be put on various angles, all the way out or partly and may be fitted with a sensor to retract automatically retract if the wind is rising.
This all sounded fabulous – just what we need plus there would be the added attraction of no permit/builders/mess and almost hassle free! The Folding Arm Awning comes in great modern colours, looks stylish and simply fits onto the side of the existing house. Once I had looked around even more I noticed they look classy and can be manually or automatically operated. The thought of solving the moving shade, glare and heat problems for a fraction of the cost and time I had been previously considering blew me away.
Sitting outside relaxing, entertaining, reading or even on the phone chatting was running through my mind. Now I could even think about taking my computer outside and typing any time, in any spot! So how was this going to work? Measuring, colour selection, operation choices and selection of price range. Again I was pleasantly surprised just how quickly I would have an extension outside with a roof and al fresco look without the need for building. A Folding Arm Awning was definitely the answer. Now to get my head around the brands and styles I preferred.
I did the research. I found a great sleek and sexy folding arm system from Acmeda. The Stein Folding Arm Awning got my attention as it is European Designed to suit Australian modern outdoor living lifestyles.
It is slimline and compact STEIN is also a traditional-style awning. Featuring a horizontal design, Stein is best suited for top fix installation under roof eaves. The tilt of the awning can be adjusted from 5 to 85 degrees, to suit a variety of shading requirements, providing comfort all day long!
On those windy spring days, Stein has been tested to withstand winds up to 50 kilometres per hour, supported with die cast aluminium brackets and quality stainless steel fittings. With all those qualities, the Stein is a reliable unit. Under such windy conditions, always a good idea to retract the awning.
The Stein is custom made unit and with an impressive 14 metre width span, 3.5 metre arm projection and its compact design, make Stein an ideal awning for almost all outdoor areas. The 3.5 metre projection gives plenty of shelter and shade. The motorized wind sensor version with a choice of Becker or Somfy motors are proving popular with customers on a daily basis. Remote touch button or a wall mount units are an option. There are also manual crank style operations available.
The folding arm retracts in less than a minute and you can adjust the projection you need for maximum shade. The wind sensor is ideal as it retracts the blind automatically should wind speeds exceed those set by the manufacturer. What really impressed me, with my hectic lifestyle, is even if I forget to retract the awning myself when I leave for work, the sensor will do so automatically when it senses higher wind speeds than 50km/hr. This eliminates worry and minimises nasty surprises when inclement weather appears.
I must admit I was pleasantly surprised with the variety of modern acrylic colours from Docril and Somerton to compliment the blind. I was not expecting such enticing materials and the depth of colours and shades. There were virtually 100's to choose from.
The research was complete. My interest was peaked!
So I decided to go for it!
First step was to get someone to measure up the area and give me an estimate of costs.
Secondly I was shown the materials, colours and working parts (componentry) of the awning. A friendly consultant advised on technical, warranty and colour selection choices.
Next thing I knew I got a call to arrange a suitable installation time which blew me away as the service was excellent.
Now I was finding myself learning how to use the Stein for best shade angles and pitches. I was amazed not only how easy (I got the Becker remote version) it was to use, but how much actual difference it made to the glare and heat I was previously enduring.
Thanks to the Acmeda's Stein Folding arm awning for helping me avoid the hassle of obtaining building permits, certificates of compliance and saving me heaps of time and money.
Now I spend most of my time out on the verandah, relaxing, working or entertaining!